Anusha Rasalingam
Partner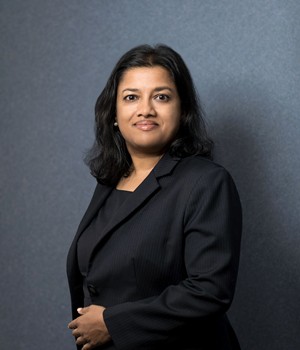 Anusha Rasalingam joined the firm in 2003 and became a partner in 2012. Prior to joining the firm, she worked in the Legal Counsel Division of the Office of the Corporation Counsel for the City of New York, drafting legislation and advising the mayor and city agencies.

Ms. Rasalingam practices primarily in the area of employee benefits law. She provides advice to boards of trustees of multiemployer benefit plans on compliance with a variety of laws, including ERISA, the Internal Revenue Code, HIPAA and the Affordable Care Act. She drafts plan documents and amendments, and advises on fiduciary issues, benefit claims, plan design and administration, qualified domestic relations orders, and works with plan service providers and staff concerning the operational day to day work of the firm's benefit fund clients. Ms. Rasalingam also prepares and reviews government agency filings, including DOL and IRS audits and determination letter reviews, where she has obtained favorable results and negotiated closing agreements on behalf of single and multiemployer plans. She also negotiates vendor agreements, including investment management agreements, and oversees complex transactions where clients invest in alternative investments, such as private equity and fund of fund investments. As a litigator, Ms. Rasalingam represents plans in withdrawal liability arbitrations and in state and federal courts, including defending claims against benefit fund trustees and collection of unpaid benefit fund contributions and withdrawal liability, as well as representing union clients in arbitrations. Ms. Rasalingam also works with union members and their families in landlord/tenant, matrimonial proceedings, and wills and trusts.

Ms. Rasalingam is a member of the AFL-CIO Union Lawyers Alliance, the New York State Bar Association, and the International Foundation of Employee Benefits Plans, and contributed the article "New DOL Service Provider Rules Finalized" to Benefits magazine, published by the International Foundation of Employee Benefit Plans. In 2013, she participated in the New York City Bar's program "Implementation of the Affordable Care Act: Implications for 2014 and Beyond" and the NYU 66th Annual Conference on Labor discussing "Significant Issues for Unions Under the ACA," and writing the article "From Panacea to Pandora's Box: Challenges Under the Affordable Care Act for Unions and Multiemployer Health Plans" to the symposium publication from the conference. In 2015, she authored a piece for the July issue of Benefits magazine entitled "Collective Bargaining Under the Pension Protection Act," and has been a presenter and moderator at the international Foundation of Employee Benefits Plans annual conferences. Ms. Rasalingam also participates in conferences presented by the AFL-CIO Union Lawyers Aliance, including co-presenting a panel on ERISA basics for new union-side attorneys at the 2014 AFL-CIO LCC Annual Conference, and an upcoming presentation on ethics for ERISA attorneys at the 2015 LCC ERISA Basics seminar.
Ms. Rasalingam was selected as a 2014 New York Metro Rising Star, an honor reserved for those lawyers who exhibit excellence in practice, and has been selected as a Super Lawyer in the Employee Benefits practice area each year since 2015.
Ms. Rasalingam graduated with a J.D. from Harvard Law School in 1999 and obtained her B.A. from Yale University in 1996.

She is admitted to practice in New York, the U.S. Court of Appeals for the Second Circuit, and the U.S. District Courts for the Southern and Eastern Districts of New York.